ADVERTISING OPPORTUNITIES
We're always looking to grow our collaboration efforts.  Through our custom sponsorship and advertising opportunities, your brand can have a symbiotic relationship with our festival!
Questions?  Please email [email protected].
31ST ANNUAL PAFF SOUVENIR BOOK
A high-quality keepsake that includes celebrity and artist profiles, information about PAFF jurors, panel participants, workshops, stories about the past 30 years of PAFF, as well as a complete film schedule and film synopses.
Your advertisement will be seen for months, if not years, to come.
PDF digital files and link will live on our website/social media and be available for download.
It also be distributed via e-Blast (to over 250,000+ Email Subscribers) announcements of our Opening, Centerpiece, Closing Nights, Special Events, and Spotlight Screenings.
Reaches an upscale, educated audience that includes celebrities, industry executives, elected and civic leaders, and other key influencers.
RATES
DESCRIPTION
FULL COLOR
BLACK & WHITE
Back Cover (6.25" x 9.25"-Includes .25" Bleed & Safe Zone on all 4 sides)
$7,500
N/A
Inside Covers (front/rear) (6.25" x 9.25"-Includes .25" Bleed)
$4,500
N/A
Center (2 Full Pages)
$9,000
$5,000
Inside Facing the Table of Contents
$4,250
$2,750
Last Page Before Back Cover
$4,000
$2,750
Full Page (6.25" x 9.25"-Incl .25" Bleed)
$3,750
$2,250
Half Page (6.25"x 4.25"- Incl .25" Bleed)
N/A
$1,1250
Known as "The Bible" of the Pan African Film & Arts Festival.
Lists and describes all films and screening times, special screening events, participating artists, panels and general information.
Placed online on PAFF's website, Facebook, Instagram, Twitter, and other social media.
With several thousand downloads on a weekly period before, during, and after the festival, an advertisement in the PAFF Event Schedule is sure to get attention and bring results.
Payment and artwork for due no later than January 5, 2023.
31ST ANNUAL PAFF SOUVENIR BOOK
The 2023 Pan African Film and Arts Festival offers your business, agency, or non-profit organization a cost-effective opportunity to create advertising impressions for all of our in-person and virtual attendees. To facilitate your company's participation, please use this information about our marketing requirements and the process we use to create quality branded sponsorship materials.
Logo File Submission
PREFERRED FORMAT: Vector eps file (such as an Adobe Illustrator eps) with all fonts converted to outlines. This file format is preferred because vector-based art can be resized without degrading shape or color.

Acceptable in some instances: Raster image file (such as an Adobe Photoshop file). The logo must be a minimum of 5" wide or 5" high (whichever is the larger proportion) at 300 dpi. The image file may be delivered in any of the following formats: psd, tiff, png, or jpeg. Logos extracted from the web (such as gif or png files) are typically low resolution and will not be accepted.

Please submit any Logo Usage/Branding Guidelines along with your logos, if required. Care will be taken whenever possible to follow applicable guidelines, including colors, clear space, use of taglines, etc.

For online usage, you may also wish to submit a low resolution version of your logo without a tagline or other small type that may become illegible at screen resolution. For Web use, the maximum width allowed for a logo is typically 150 pixels.
Sponsorship Ad Submission
We offer (2) advertising opportunities:
Full Page (9.25 x 6.25 / Horizontal)
Half Page (4.5 x 5.75 / Vertical)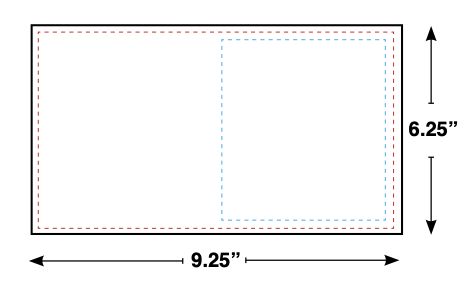 300 DPI
4-color (CMYK) or Black & White (Greyscale)
For full page Ads, please include .125" Bleed.

SUBMISSION DEADLINE
Friday, January 15, 2023
If you have any questions regarding these specifications, delivery of materials, or require technical assistance preparing your advertising creative, please contact:
Kelcey Newman, Creative Director
ATTAIN Design and Marketing Communication
[email protected]
(805) 822-9392
On-screen trailer screened prior to films.
Presentation length of up to 30 seconds.
Exposure up to 35,000+ undistracted attendees (number based on physical attendance).
| | |
| --- | --- |
| Screened Before 5:00 p.m. on weekdays | $500 per screening, minimum four screenings |
| Weekends and after 5:00 p.m. on weekdays | $750 per screening, minimum four screening |
| Opening Night | $5,000 |
| Centerpiece | $1,500, one screening only |
| Closing Night | $2,000, one screening only |
VIDEO SPECS
Video Codec: H.264 or MPEG4
Frame Rates: 23.976fps, 24fps, or 29.97fps
File Format: mp4, mov (These are the only acceptable formats – No Pro Res files)
Recommended Encoding:  Video Bitrate 25MB/s VBR (TARGET), 30MB/s (MAX) – Audio Bitrate: 192KB/s
Audio Format: Stereo AAC ONLY (5.1 Surround is NOT acceptable
Closed Captions/Subtitles: All subtitles should be burned in. If this is not possible, please advise and submit the appropriate SRT and/or VTT files
Video File Size: The recommended size is 10GB or less
PLEASE NOTE:
Trailers must be submitted no later than January 30, 2023.
Format: DIGITAL FILES OR LINKS ONLY — See attached Specs for details.
Payment must be received no later than January 30, 2023, to ensure desired placement.
All checks and money orders must be made out to: The Pan African Film Festival.
PAFF is pleased to offer your organization a highly effective way to reach PAFF's dedicated audience of affluent independent cinema lovers in Los Angeles and around the world with your message. Over the past two fiscal years, PAFF.org received over 15,000,000 visits. By advertising on PAFF.org, you can reach our film festival audience as well as our followers the world over.
Ad Sizes: PAFF offers standard ad units and unique advertising opportunities designed to meet the needs of your branding campaigns. Below is a list of some of the standard ad units we offer. Please contact us at [email protected] for customized ad rates.
Formats: GIF, JPG, PNG
Max. size 150KB
Animated ads (GIF) Animation length and speed:
Animation length must be 30 seconds or shorter
Animations can be looped, but the animations must stop after 30 seconds
Animated GIF ads must be slower than 5 FPS
AD TYPE & PLACEMENT
AD SIZE
RATE
Website Trailer

1080 x 1920 / 720 x 480

30-60 Seconds / MP4
$2,500 per week, two weeks minimum
Leaderboard (placed exclusively on the homepage of PAFF.org)
728×90
$1,500 per week
Full Banner (seen on every post and page of PAFF.org)
468×60
$1,000 per week
Medium Rectangle (seen on every news/article post)
300×250
$750 per week