ROOTS OF RESILIENCE
A strong, unshakeable root system allows "The Tree of Life," Africa's great Baobab tree, to live over 1,000 years. The tree towers over the land of the arid savannah and produces the richest, most versatile fruit in the world.
Over 30 years ago the Pan African Film Festival (PAFF) planted seeds with deep roots of resilience that continue to bear tremendous fruit for actors, writers, directors, producers, and numerous award-winning filmmakers.
Like the Baobab tree, which grows in 32 African countries, the Pan African Film Festival stands as a pillar in the diverse Black community, welcoming filmmakers from across the world to showcase their pride, their voices, and their unique stories.
The Pan African Film & Arts Festival hosts its 30th anniversary April 19 through May 1, 2022, with a hybrid of in-theater screenings and live ArtFest coupled with our celebrated virtual streaming presentations designed to spread our roots the world over.
For 2022 PAFF sponsorship inquiries contact [email protected].
PAFF PROGRAMS & EVENTS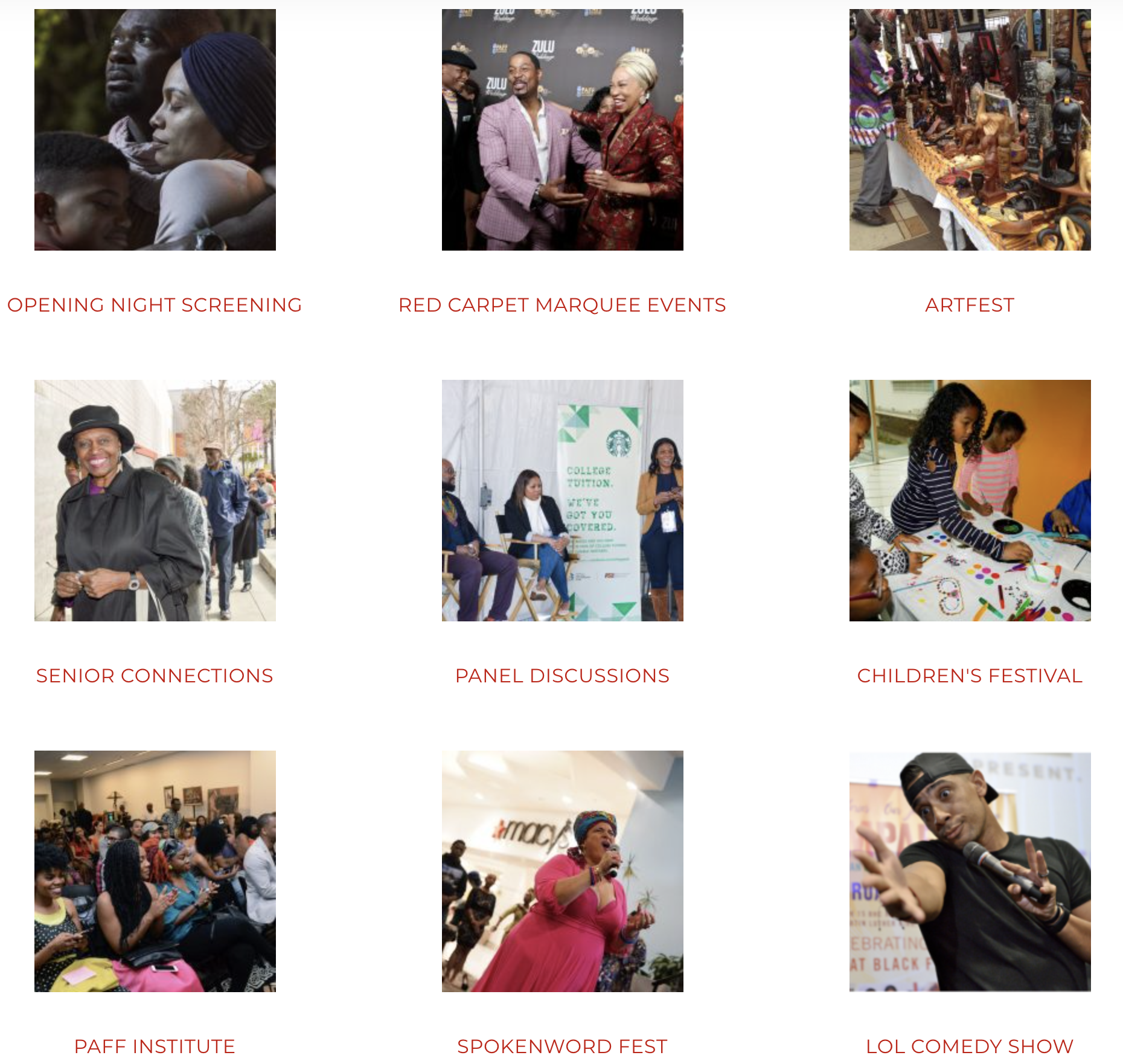 PAFF has given our sponsors access to celebrities and an opportunity to introduce new products and network with potential customers. Your brand will have multiple consumer touchpoints.
With a pipeline of diverse, independent films, curated content, and festival programming, your brand will have opportunities to connect with consumers from the U.S. and around the globe. Join us in this gateway to a new and highly profitable future.
ACCESS & INFLUENCE

With VIP attendees ranging from Industry Professionals to music artists to reality stars to A-List talent, PAFF is a micro-endorsement event where social content and media-generating moments are created in sponsor branded environments.
MEDIA & INTERNATIONAL REACH

When people talk about PAFF, they talk about our partners too! Aligning with PAFF generates social content and news media that helps boost both awareness and perception of your brand with a diverse, global audience hailing from the United States, Africa, the Caribbean, Europe, Canada, South America, the South Pacific Islands and, increasingly, Asia.
DEMOGRAPHIC SNAPSHOT (2020/2021)